Attention to detail and personal service has earned JB Finish a reputation for excellence. For more than 25 years we have provided complete finish carpentry service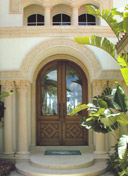 to California's top builders.
We offer the largest Architectural Traditions Showroom in California. With affordable prices, our showrooms features the latest design in doors, windows, decorative moldings, door and bathroom hardware, and wood ceilings.
Visit our showroom or contact us today for quality service, exciting products, and a memorable shopping experience. Or contact us at 760-342-6300.